The familiar context guaranties a genuine contact with the rural life of Val d'Orcia.
The farm is restored in respect of functional characters and rural characteristics. All these things permit to our guests to stay in a place where it is possible to have a fireplace reminding to the past and the cock-crow greets the sun. Out of door there is the possibility to see and participate to the different activities of the year in country, such as the grape gathering and the olives harvest.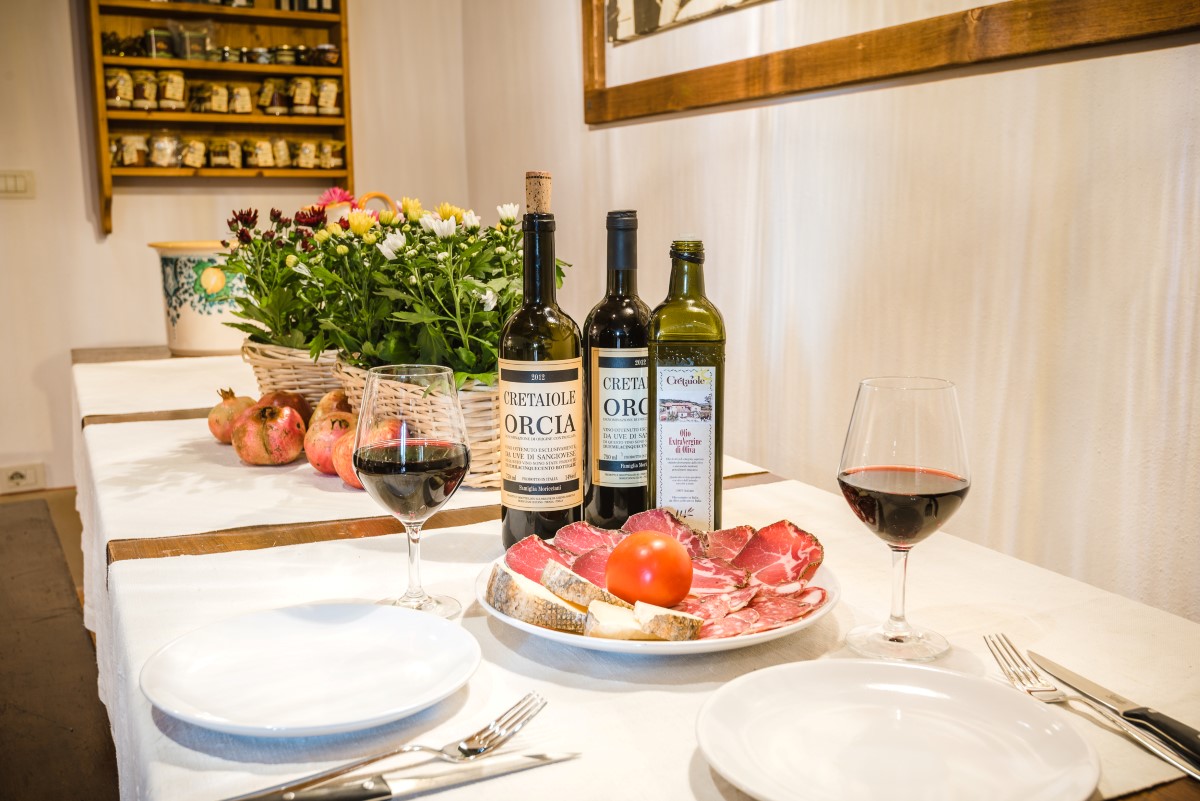 Wine
The wine-making of Rosso d'Orcia DOC provides that the fermentation of the most takes places with the marc, which, during this phase, releases some substances like anthocyanin and tannin.
The next phases are the drawing, the separation of the marc from the most, decanting, sharpening and the ageing.
At the end of this period the wine is bottled.
Our wine d'Orcia is made only with Sangiovese grape.
The result is a pleasant, fruity and harmonic wine.
A part of this wine is aged in small oak barrel (barrique) and the final result is an aromatic, intense, scented and stronger wine.
Our white wine is pleasant, aromatic and fruity; it is made with Malvasia and Trebbiano grapes..
...moreover our Vinsanto, Grappa and everything the country give us, like fresh eggs from chicken every morning.

Oil
The farm has 900 olive trees of the most characteristics and valuable varieties of Tuscany (Frantoio, Leccino, Pendolino,Moraiolo) which produce a high quality oil. The olives are picked with hands by the family and by the guests, who are interested in and curious about this activity. This kind of harvest (on the contrary of beating or other mechanic methods) guarantees the integrity of the fruits and their perfect conservation until the cold squeezing, which takes place after 24-36 hours from the harvest. Our oil is certificated Toscana IGP (geographical and protected indication): this is an assurance that the product contains only olives coming from our territory and that its acidity is less than 0.5%.
Regarding oil, if you wish to have more information, Carlo, oil tester "Panel Test" of province of Siena, will reveal the secrets of this product.